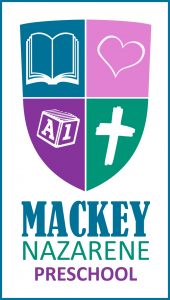 The Mackey Nazarene Preschool wishes to provide opportunities for students to gain academic, social, and physical skills using interactive, age-appropriate methods. Through music, games, prayer, Bible stories, structured learning time, and free play, our school works to instill a love of learning, enhance self-esteem, and further out students' relationship with Christ. Our staff sincerely feels it is our calling to teach children and serve families. It is our prayer that all families are strengthened by their relationships with us, our school, and church. Click here to meet our preschool staff.
"And whatever you do, whether in word or deed, do it all in the name of the Lord Jesus, giving thanks to God the Father through Him."
– Colossians 3:17
Want More Information?
Have a question about our preschool? Want more information on curriculum, facilities, class schedule or anything else about the school? Use the form below to send us an e-mail and someone from our preschool will contact you. We will be glad to give you a tour and answer any questions you might have. We look forward to the possibility of partnering with you in your child's education!