THE ATTIC REPORT
News & Updates From Mackey Church of the Nazarene's Teen Ministry
Personally, this has been a month of struggle for me. God in His grace has been teaching me to trust in His Holy Spirit more and more. He's a personal God and is always discipling us! I'm thankful for His grace and forgiveness even when we fall short!
In the coming month of November, I'm continuing to look forward to how God is going to work in and through the ATTIC Teens. Amidst Covid-19 God has still called us to be apart of the Great Commission! We can't live in fear to "what if," but rather to "even if." Even if we face trials God has still called us to continue on! He has still called us to love Him above all else, and love others. Praise the Lord!
~ Pastor Garrett
YOUTH LED SERVICE (NOVEMBER 8)
Our youth service that was schedule for October 18 has been re-scheduled for Sunday, November 8 at 6pm @Mackey Campus. The ATTIC teens will be primarily leading the entire worship service. God enables us to lead even when we're young! Be sure and join us for a time of worshipping the Lord.
FALL REVIVAL (NOVEMBER 14-18)
We will be having our Fall Revival this year with Dr. Chris Bounds. Dr. Bounds is an excellent speaker and will be with us Saturday @Owensville Campus at 6pm. Sunday he will be speaking at 9am, 10:30am, and 6pm @Mackey Campus. Then, MondayWednesday he will be preaching at 7pm @Mackey Campus. We invite you to join us as we seek to draw closer to the Lord!
NYI COUNCIL (NOVEMBER 22)
The NYI Council helps organize and direct youth group activities, as well as lead spiritually. Their next meeting is November 22 @12:30pm @Mackey Campus. Lunch will be provided.
TEEN QUIZZING (NOVEMBER 14)
Our teen Bible quizzers are continuing to train hard! They will be quizzing next on November 14 at Faith Community in Huntingburg, IN. Continue to pray for our quizzers as they practice and compete
SNAC (NOVEMBER 15)
SNAC or Sunday Night After Church is an event we normally have in the summer, but will be having November 15 right after the 6pm evening service. All teens are invited to play glow-in-the-dark capture the flag, as well as enjoy some homemade hot chocolate and cookies! Hope you can join us!
WEDNESDAY NIGHTS IN THE ATTIC
Every Wednesday @7pm we gather to be equipped by the Holy Spirit and to draw closer to Him. This month Pastor Garrett will be teaching about Encountering God, being Equipped by the Holy Spirit, and Engaging the world for Jesus! Join us as Pastor Garrett brings the word!
Meet One of Our Youth Workers!
Meet Cecilia Rhoden! Cecilia is a full-time wife and mother who also works as a cosmetologist. If you ever need a good haircut, you can call her! Cecilia is also an integral and important part of our ATTIC teens and is always willing to help! We appreciate her hard work and time she invests each and every week. Thank you, Cecilia!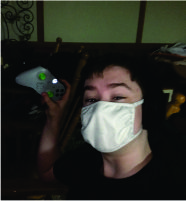 Meet One of Our Tees
Meet Corbyn McGillem! Corbyn is a sophomore at Wood Memorial High School and has been coming to Mackey Church of the Nazarene ever since he was young. Corbyn enjoys playing Xbox games like Halo, Doom, and GTA Online. He also has a cool pet guinea pig, along with some brothers and a sister. When Corbyn is not playing games he likes watching Youtube and Netflix. We enjoy having Corbyn apart of our ATTIC Teens!